I'm so excited to be hosting Thanksgiving this year! I'll have both sides of the family in and out of the house during the week, which means a lot of love around the family table. As a child, sitting at the kid's table wasn't always that bad; I got to see my cousins and Grandmother's sweet potatoes alone were worth the trip. I always looked forward to her cooking. This year, I'll have five little ones sitting together (one in a high chair) and I want to make our kids table a place of smiles and activity… not a place to wonder who's got to pass on before you can move up to sit with the adults.
In order to achieve all that fun, I've been brainstorming some entertaining ideas for our Thanksgiving Kids Tables. Here are my top 20 ideas for inspiring you to put together something special for your little ones.
These Thanksgiving Gourd Turkeys from designimprovised.com can be made with a few gourds from the grocery and plenty of leftover craft supplies:
Krystyn of Really, Are You Serious? brings a Thanksgiving basket to share, stuffed with printables and coloring tools for your Thanksgiving kids tables:
Julie Blanner's Take on a Kids' Table bring festive dishes to each place setting:
An Edible Thanksgiving Table for Kids from Baked Bree makes for a tasty finish to the meal:
Need some personalization? This Thanksgiving Table For Kids includes your own tot's handprints:
These happy little Thankful envelopes from dukesandduchesses.com are perfect for early writers at your table:
How To Create A Kids' Thanksgiving Table from momsandmunchkins.ca brings forth snacks and entertainment:
Thanksgiving Kids Table from Lisa Storms is simple & colorful for minimal effort and maximum impact:
Giving Thanks from frogprincepaperie.com means stamped napkins and a 3-D centerpiece:
This Thanksgiving Kids' Table from occasionallycrafty.com has handmade turkey legs of paper with cut-out names. You can use a sharpie for the same effect at half the time:
I love a lot of monochromatic texture, and this AThanksgiving Tablescape For Kids from dukes and duchesses nails it. If only I had enough plates for the whole family:
Kids Craft: Thanksgiving Napkin Rings from happinessishomemade.net:
Grab some decor from your own backyard with this Thanksgiving Kids' Table Idea from oneshetwoshe.com: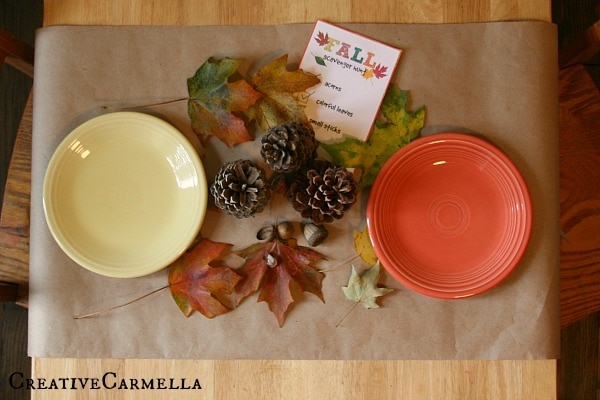 Sometimes, you can let the kids use supplies to decorate their own tables, and that's a lot of fun! Plus, it keeps them entertained for a few minutes. Find top trends for Thanksgiving Kids' Tables at catchmyparty.com:
Short on time? Use these Supremely Easy Thanksgiving Kids Table Ideas from designimprovised.com:
If your kids are a little older or, you have an older cousin that can "direct traffic," use these Free Printable Thanksgiving MadLib from blog.chickabug.com for post-meal entertainment:
If you're still feeling crafty a few days before Thanksgiving while the bird is marinating, use these Last-minute Thanksgiving Dishes & Table Setting Ideas from viewfromthefridge.com:
If you're only needing a centerpiece, take the kids into the kitchen to make someChocolate Covered Pretzels from insidebrucrewlife.com. Stick them in a jar and VOILA!
Turkey Napkin Rings From Fingerprints from craftsbyamanda.com: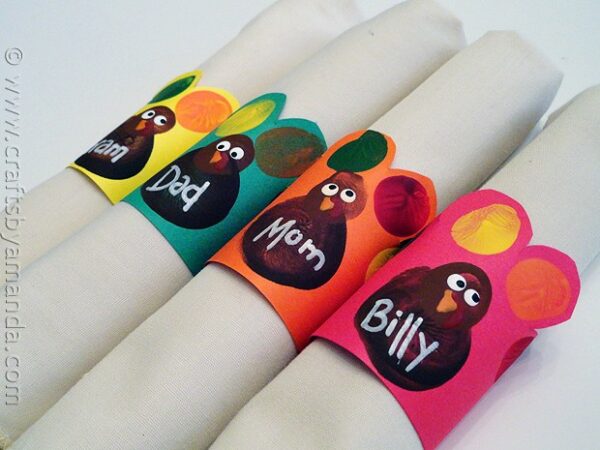 The Kids Table: A Paper Bag Turkey that's filled with yummy popcorn from onecharmingparty.com:
Diy Bottle Cap Turkey Napkin Rings from thecountrychiccottage.net:
What are you favorite ideas or themes for Thanksgiving Kids Tables? Leave me a comment (or an idea!) below!