I'm very much a Marvel newb. I REALLY enjoy the movies. I played Marvel action figures with my son and have watched all of the movies up until this point (and in the theatres, too! Big action = big screen). But when Marvel introduces a "new" character to the screen, I'm lost! I have to read, watch all the trailers, and expose myself to the element of surprise when the film starts rolling. I actually enjoy this reveal very much! When Chase started working on Guardians of the Galaxy, I fell in love with the soundtrack (and Loooooord you will LOOOOOOVE the Captain Marvel Soundtrack when it's released!). Naturally, with the advent of Marvel's first stand-alone female franchise, a Captain Marvel Disneybound was in order. Be sure to grab a ticket for Captain Marvel, in theatres everywhere on March 8th!
I'm not hesitating to bring my kids to the theatre. Since Guardians has been family work, they've seen both of those films and understand our language rules and more. Captain Marvel seems the most family-friendly of all the Marvel movies… I didn't write down if there was language or not (the movie is rated PG-13) but there was no visible nudity or gory scenes. Violence plays a part in the rating, as there is death, lasers, guns and explosions. Some parents may want to screen the fiml before deciding.
Captain Marvel Trailer
Marvel Studios presents "Captain Marvel," an all-new adventure that introduces the MCU's first female-franchise title character—Carol Danvers aka Captain Marvel. Set in the 1990s, "Captain Marvel" sidesteps the traditional origin-story template, with Carol Danvers already possessing her superhero powers. Leaving her earthly life behind, she joins an intergalactic elite Kree military team called Starforce, led by their enigmatic commander, Yon-Rogg.
But after Danvers has trained with the Starforce team, she finds herself back on Earth with new questions about her past. While on Earth she quickly lands on the radar of Nick Fury, and they must work together against a formidable enemy in the form of the Skrulls—the notorious Marvel bad guys made even more dangerous by their shape-shifting abilities—and their leader, Talos, who is spearheading a Skrull invasion of Earth.
Captain Marvel Disney Bound
Getting to see the newest Marvel film early meant dressing for the occasion. There are many Marvel Superheroes I didn't know much about before seeing the films, like Black Panther, Dr. Strange, and Captain Marvel. Without the comic back knowledge, I was walking into the movie blind, save for my Avengers movie canon. Fortunately, one of my best friends, Meghan, is a Captain Marvel nut and has some of the most wonderful accessories. I promptly swiped her custom made Etsy necklace and purse for a photo op.
---
Prowl Wakanda with these simple pieces and some Stella & Dot jewelry to bring out your inner warrior. Wakanda Forever!
---
I ravaged my own closet for my Stitch Fix long sleeve blue knit shirt, donned some jeans and converse sneakers (a nod to their return in the 90s). I used a red and gold beaded bracelet that typically accompanies my UGA tailgate gear and donned some starry earrings I bought from Stella & Dot a few years ago. You can find all the items below on Amazon and Etsy, but I recommend searching for all the Captain Marvel purses. Box Lunch and Hot Topic have some amazing options!
RE
Captain Marvel Crossbody Purse
Womens Criss Cross V Neck Long Sleeve T Shirt Casual Tops Navy Blue L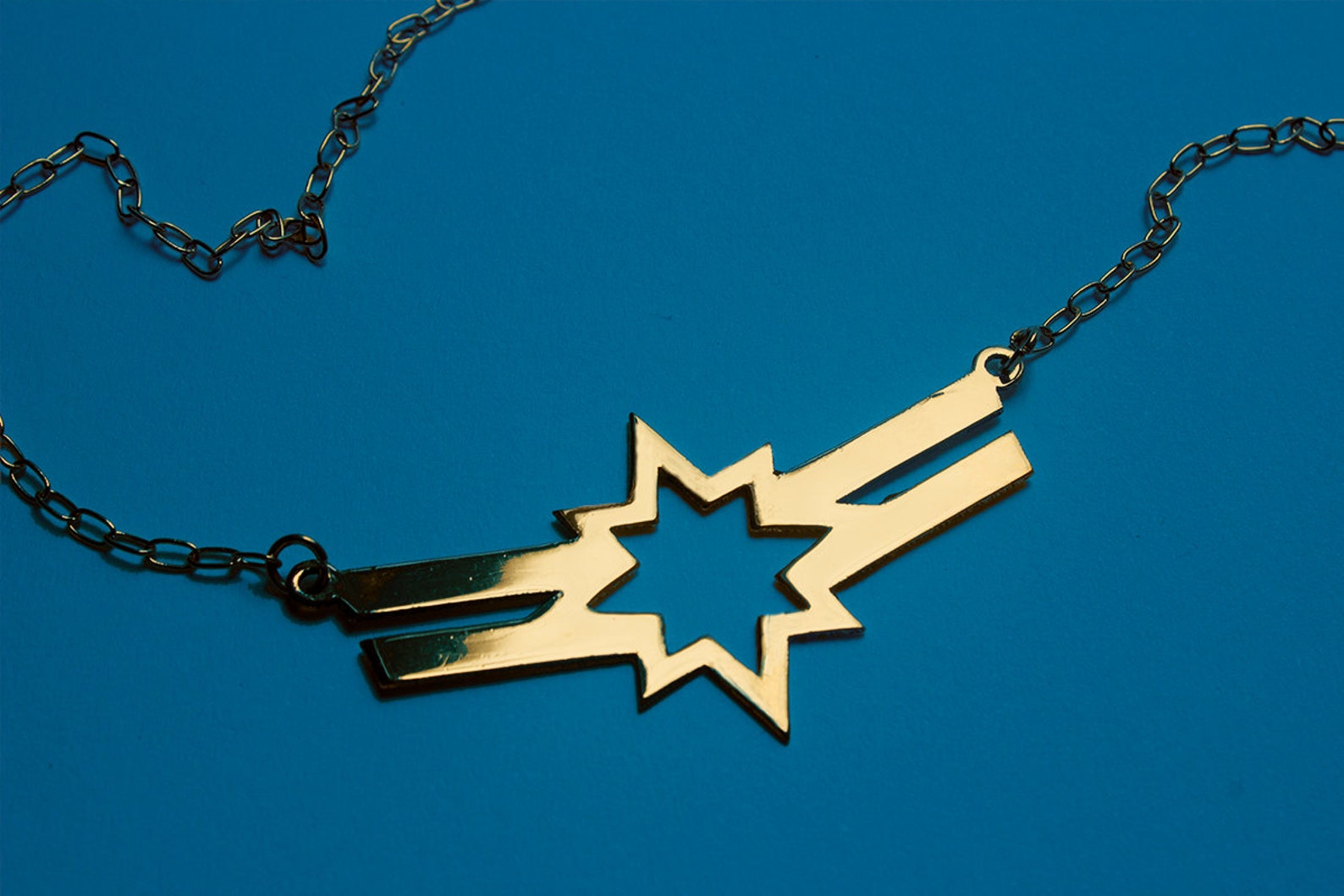 Captain Marvel Necklace on Etsy
Arm Party 5 Layered Bangle
Alex & Ani Traveler Gold Bracelet
Converse Chuck Taylor All Star Ox Red 36-37 M EU / 6 B(M) US Women / 4 D(M) US Men
I Think The Men In Black Orion Cat is a Flerken
What's a Flerken? You'll just have to go see the movie! I'm a cat lover, and I know several cuddly little orange buddies. It is my unofficial opinion that the orange cat from Men In Black (owned by Aliens, named Orion) is a Flerken, too. He's COMPLETELY unafraid of the Edgar and I'm sure if he had a chance, would Flerken him. Yes, I'm making a verb! The image below is of Goose/Chewy and the video at the bottom is Orion! You make the decision once you head to the theatres!